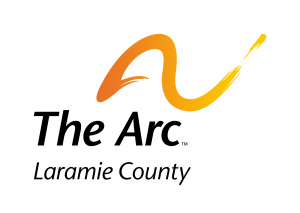 The Arc of Laramie County Mission Statement:
The Arc of Laramie County is committed to expanding opportunities for people with intellectual and developmental disabilities (ID/DD) so that they may be included in their communities. The Arc promotes access to quality support services, assists families, provides training programs and builds a local network of advocates.
Core Values…
People First: The Arc believes that all people with intellectual and developmental disabilites are defined by their own strengths, abilities and inherent value, not by their disability.
Equality:The Arc believes that people with intellectual and developmental disabilites are entitles to respect, dignity. equality, safety, and security afforded to other members of society, and are equal before the law.
Community: The Arc believes that people with intellectual and developmental disabilites belong in their community and have fundamental moral civil and constitutional rights to be fully included and actively participate in all aspects of society.
Self-Determination: The Arc believes in self-determination and and self advocacy. People with intellectual and developmental disabilites, with appropriate resources and supports, can make decisions about their own lives and must be heard in issues that affect their well-being,
Diversity: The Arc believes that society in general and The Arc in particular benefit from the contributions of people with diverse personal characteristics(including but not limited to race, ethnicity, religion, age, geographic location, sexual orientation, gender, and type of disability).
About The Arc of Laramie County

What is the Arc? The Arc of Laramie County is a local organization of and for the people with intellectual disabilities and their families.
Who is the Arc of Laramie County? The Arc of Laramie County is an open membership organization made up of people:
People with intellectual disabilities
Parents and other family members
Friends of people with intellectual disabilities, interested citizens, and professionals in the disability field.
What activities do you have for the people with disabilities? The Arc provides monthly recreational activities like Bowling leagues, social activities, classes and trainings, excursions and more.  
How is the Arc Supported? The Arc is a nonprofit, tax–exempt corporation and derives its support from its membership and donations from individuals, corporations, fundraisers and grants.
History
In 1945, a group of parents came together to form The Arc of Laramie County. Their children all had cognitive, intellectual and developmental disabilities. At that time they were called mentally retarded and were not allowed to attend public or private schools. you can imagine how you would feel if you had a child, or a grandchild, who was turned away from schools, with no alternative, other than the institution in Lander, WY. Like all parents they wanted their children to have the same opportunities as all children, and they wanted to keep them at home, with their other children. They banded together, learned about the possibilities from the Arc of Wyoming formed in 1950 in Casper, raised the money themselves, (you can imagine having to find a source for all the money needed for your children's education) and in 1959 they opened The Opportunity School in a building by the airport given by the city. They started with 20 children, ages 3-16.
In 1967 the Laramie County School District responded to the parents, (again going to bat for their children) and opened a class for what was then called trainable mentally retarded children. (Previously the school district had started Chaplin School for Children, then called educable, who were able to learn more academics.) We no longer use these terms to label children. They are people first, so now we say, people with disabilities.
As the children grew older, beyond school age, it was clear they also needed work experiences as well. Again the Arch pushed for a sheltered work situation. The Kiwanis quickly took this as their special project and Magic City Enterprises was born. Now many people with disabilities are able to have regular jobs with little or no assistance.
By 1971 the parents of pre-school children with disabilities knew that early intervention significantly improved development and STRIDE was born, first based in the old Opportunity School. And we're all familiar with the continued success of the STRIDE program.
Also in the 70's there was a need for supervised group homes witch the Arc initiated and which were quickly incorporated into Magic City Enterprises as an addition to their adult services. Now some people can even live on their own, with minimal assistance.
During this time, Federal Legislation allowed money that previously went to state institutions to go to individuals with disabilities instead, allowing them to essentially par for services they need, in their own communities. This legislation and virtually all of the special education legislation over the years has largely been the results of the efforts of The Arc of The United States. Their expertise is highly respected in Washington. We are a part of The Arc of the US as well as The Arc of Wyoming.
I'm sure you're seeing a pattern here. The Arc, comprised of parents, professionals and friends, is aware of the needs of people with developmental disabilities and establishes programs to fill those needs, as much as possible. Once established, The Arc passes these programs on for others to run, so that The Arc can respond to new needs. Another example is the Respite Program, which gives occasional respite to parents with disabilities. It is now separate United Way organization. And People First, a group of adult self-advocates started within The Arc, is now completely independent. They are able to advocate for their own needs.
Since 1954, The Arc has continued to serve the needs of people with disabilities. There have been financial ups and downs. You probably heard that we no longer have the financial support from a bingo hall, since PARC Bingo dissolved, and Oktoberfest was helpful, but weather sometimes created a loss instead of a gain. We are funded solely by memberships and the generous donations of others. However, it is never enough to fund all the ways in which we would like to help people with disabilities. We run a lean, but not a mean organization. The only paid staff is our invaluable part-time Executive Director.
Basically, the current needs we are meeting are transportation and social recreation. We're really excited about them because of our belief that people with disabilities have the right to live enjoyable, productive lives with their families and friends, to make their own choices, and to be as independent as possible. As you can see, by the faces and the activities, The Arc has been able to bring a lot of joy, and what we all find is that it also returns joy to those who give it.
We hope as you learn about The Arc, that you too will join in our efforts to meet the needs of the people with disabilities. We welcome new members to the board; we welcome anyone who would like to help with our activities; and we welcome any way in which you would like to contribute.